The Basic Band is one of our original and most popular designs. A 1mm thick, 1.5mm wide basic band made from Sterling Silver or 9 Carat Gold, the Basic Band is a classic piece that will never go out of style and looks amazing stacked with fine pieces.
PLEASE NOTE WE RECOMMEND YOU SIZE UP FOR THIS RING.
It is crucial when sizing for this ring to remember the ring covers a much larger portion of your finger than a regular width band, as such for comfort several sizes larger is recommended for comfort. Try wrapping a 15mm wide strip of paper/ thin cardboard around your finger to test out what is comfortable for you.
- As always, pieces can be made in other alloys, please email hello@elizabethwiltshirejewellery.com to enquire about pricing. 
- Hand crafted by Elizabeth in Australia.
- Made from recycled metals.
- Please allow time for your order to be made, unless tagged 'ready to ship' each piece is made to order and may take a couple of weeks to be shipped. 
--
We use the Australian Ring Sizing system, if your size is not in our drop down menu then PLEASE INDICATE YOUR SIZE IN THE NOTES SECTION OF THE CHECKOUT.
For information on how to find your size, please see our Ring Sizing page.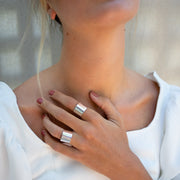 Basic Band